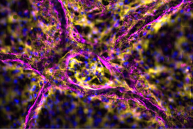 Announcing the Nerd Art Prize 2023 contest!
The Chaperon ERA Research Club invites you to participate in our Nerd Art Prize 2023 contest by sending us your best photo or picture! Submissions are accepted by until September 15, 2023, in two separate categories: Science & Research, and Freestyle (i.e. any topic). Winning pictures will be hung in the new campus of the Faculty of Medicine in Pilsen and their authors will receive surprise gifts. Please read the full contest conditions and submission instructions here, and check the winners of the previous contest instalments (2021, 2022).
---
Free Research Consultations
In need of consulting a manuscript?

Not sure about your experimental design?

Need a second opinion on your research?

Feel stuck with referee comments?

Our experienced mentors Prof. Kari Hemminki and Dr. Khaled Ismail are here to help.

The Chaperon project offers free research consultation services as a part of its ERA Research Club. It's easy, just get in touch with the project staff via chaperon@lfp.cuni.cz and we'll link you with our mentors or find you another one from your research field.

Still not sure? Check the video on the left to hear about the experience of one of the students who tried our service!
---
Expanding the ERA Research Club
The main aim of the ERA Research Club is to provide the necessary support for designing, conducting, analyzing, and disseminating research work. Its curriculum is designed to utilize varying opportunities and media to enable the trainees to achieve their professional goals. The ERA RC curriculum is being developed with direct involvement of CUNI Ph.D. students through a focus group of ERA RC Champions (Click HERE to see the full ERA RC Team).
We are glad to announce that the first four courses of Chaperon's ERA Research Club for Ph.D. students and young researchers are now permanently available in e-learning form on CUNI's Moodle platform. The courses are (full description of course contents is available HERE):
---
Curious about the upcoming ERA RC seminars, contests and other events?
Keep an eye on the NEWS section of the website or subscribe to the Chaperon newsletter to stay informed!