We are excited to announce the winners of this year's Nerd Art Prize! This time in two categories: Research and Freestyle. And the winners are (drumroll please)…
Research:
We have shared first place this year, going to Anna Malečková and Pavlína Vávrová. Anna Malečková from the Faculty of Medicine in Pilsen scored with a microphotograph of pig bone trabeculae, obtained with picrosirius red staining in polarized light (picture on the left). Pavlína Vávrová from the Faculty of Pharmacy impressed the jury with a picture of robust dual-species biofilm of methicillin-resistant Staphylococcus aureus and Candida albicans cultivated for 24 h in Lubbock chronic wound biofilm model (picture on the right).
Third place (by the tightest margin possible) goes to María Iniesta-Cuerda and Jan Nevoral for their picture of an early embryo at 5 days of age, "hatching" from its envelope called zona pellucida (grey). The embryo has about a hundred cells (nuclei in blue, cytoskeletal protein B-actin in green). The viability of the embryo depends on a sufficient expression of the histone deacetylase Sirtuin 1 (red), localized mainly in the nucleus.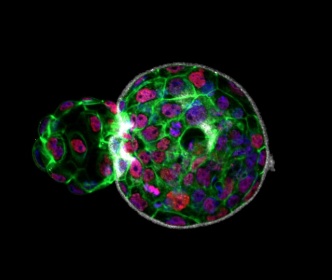 Freestyle:
Believe it or not, we have a tie for the first place in this category too! The winners here are Miroslava Čedíková (Faculty of Medicine in Pilsen) with her photograph of a snow leopard, and Ivana Vodrážková (also from the faculty of Medicine in Pilsen) with her photograph called The Dark Hedges, taken in Ireland.
Third place in Freestyle goes to Jana Stránská (Center for Economic Research and Graduate Education – Economics Institute) for her photo titled, quite self-explanatorily, Gecko, La Réunion.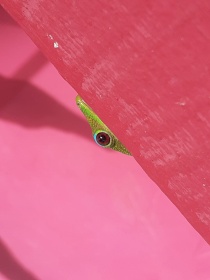 Huge congratulations to the winners and even bigger thanks to all participants!